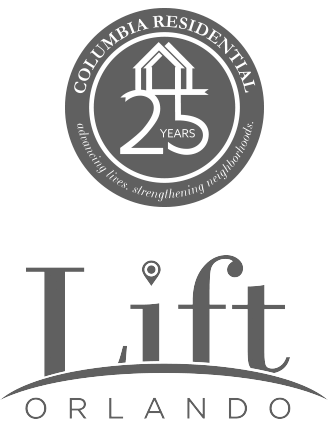 Partners
Pendana at West Lakes is part of a bold, transformative vision, a collaboration being brought to life by Columbia Residential and Lift Orlando.
Columbia Residential
Columbia Residential was established in 1991 when its founders saw the necessity for quality affordable housing that fulfills the needs of our residents and also enhances the aesthetic standards of the community. Today, Columbia Residential's work comprises master planning, development, project management, construction management, and property management disciplines.
Together with experienced partners, the company's ideas are brought to life with inspired, purposeful architectural design; sustainable, innovative construction; and a sincere commitment to the community, its surrounding neighborhood, and most importantly, its residents.
Visit ColumbiaRes.com to learn more.
Lift Orlando
Lift Orlando is a nonprofit organization comprised of business leaders partnering with residents to accelerate community transformation.
Lift Orlando's holistic approach is inspired and informed by the highly successful model of Purpose Built Communities. This framework of holistic community revitalization includes a cradle-to-college-to-career education pipeline, a mixed-income housing strategy and community wellness through a rich network of community and support services.
Visit LiftOrlando.org to learn more.